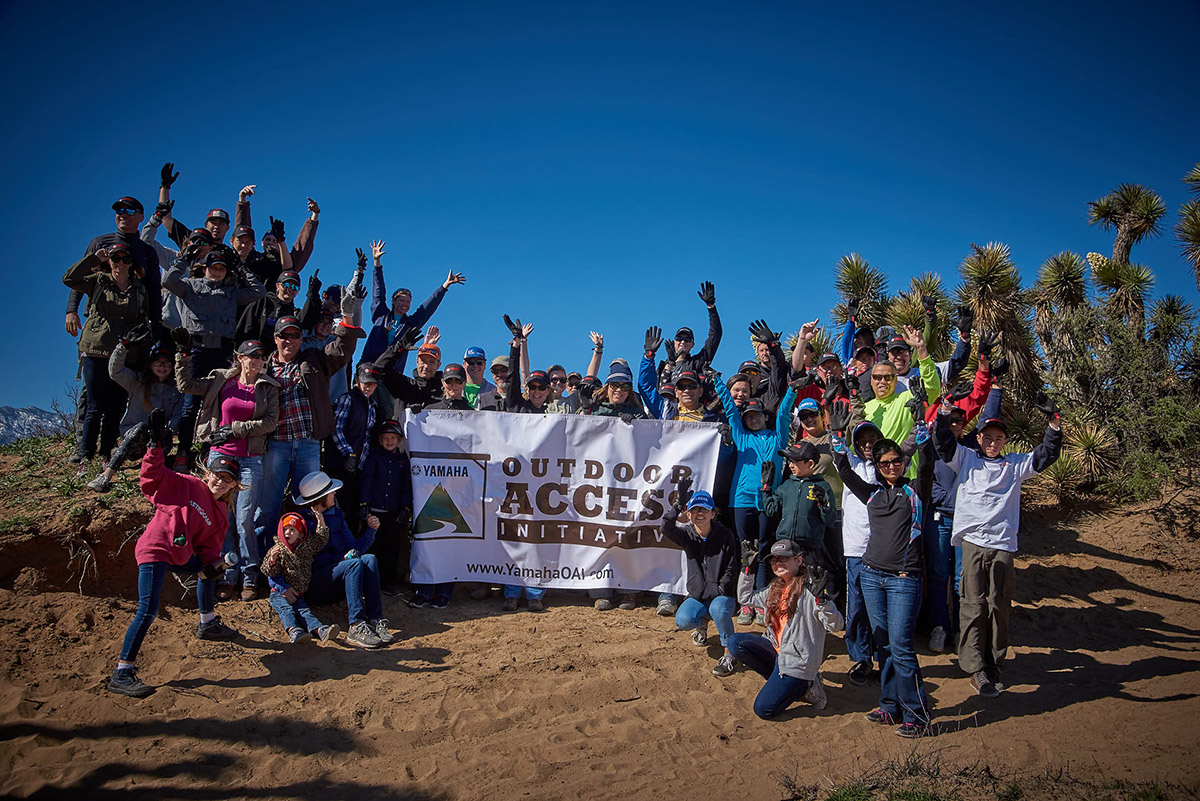 The Yamaha Outdoor Access Initiative (OAI) focuses on the fundamentals: protect public land for the future of outdoor and motorized recreation. We're inclusive. It doesn't matter if you ride 2-wheels or four; dirt, sand, or snow. OAI funds are available for those projects working to keep public land available for fun and adventure.
Because the threat to access to public land for outdoor and motorized recreation is very real.
And, if you're reading this, you likely know that as well as anyone.
If history has taught us anything it is the fact it is much easier to say "no" than to say "yes".  This is particularly true when resources are limited, and demand is high.  Sadly, this is always the case for public land managers.  So, when problems arise – created by time, weather, conflicts, or over-use – the simplest solution is to shut it down. Limit access.  Say no.
We're here to turn "no" into "yes" as much as possible, for as many people as possible. We've been here for 15 years, injecting more than $5 million into projects happening on the ground across the country.  These projects include bridges, maps, signs, bathroom facilities, and trail maintenance supplies. OAI funds have helped plant trees, purchase gravel and rent heavy equipment to help redirect trails to keep riders away from sensitive areas and user conflicts.
The Yamaha OAI has funded more than 425 projects. A few recent examples include:
The Post Wildfire ORV Recovery Alliance reached out to the Yamaha OAI to help fund a cargo trailer and tools to help rehabilitate OHV trails on the Mendocino National Forest that were destroyed by the 2018 Mendocino Complex Fire – considered the largest in California's history at the time. This Rapid Response Trailer gives trail work volunteers ready access to the tools and supplies needed to quickly clear debris from trails and restore them to safe public use.
In New Hampshire, the North Country ATV club used Yamaha OAI funds to address a serious drainage issue on the Morse Mountain Trail – part of the club's Premier Adventure Trails.  By repairing the weather-damaged trail surface and addressing other safety concerns, the North Country ATV club was able to keep landowners from restricting access, protecting nearly 150 miles of continuous mountain family fun adventure trail riding.
The Indian Valley Creek ATV Club has received nine grants over the 12-year history of the Yamaha Outdoor Access Initiative.  With these funds, the club has expanded its trail system by more than 100% and increased its membership four-fold, giving more people in central Pennsylvania access to safe, responsible OHV riding.
We want to do more. The OAI funds grants four times a year. That's right. Every quarter.  So, if you are out on public lands and see an opportunity to protect, improve or expand access to trails and areas for outdoor and motorized recreation, know we are here to help. Find out how to apply for a grant here.